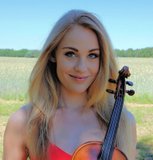 The violin has been my faithful companion since I was 4 years old and started at the Suzuki Institute.
During my childhood I traveled around the world to study with international master teachers and I have won several awards at music competitions.
At the age 16 I was admitted to the Royal Danish Academy of Music and at the age 20 I was admitted to the Rhythmic Music Conservatory, where I completed my Bachelor's degree in 2015.
I express my music through one of the world's best violins - a 300-year-old instrument built by the Italian violinmaker Matteo Goffriller.
Concerts and events
Participating soloist with the Tolkien Ensemble at Lord of the Rings tour in Germany, with orchestra, choir and actor Billy Boyd ('Pippin' in 'Lord of the Rings')

Music feature in Go 'Aften Danmark on 10 April 2019, filmed by Nordisk Film Danmark.

Danish premiere of John Høybye's 'Psalm 151' for choir and solo violin. The concert was recorded by DR.

Participated at Eminem's concert on Orange Stage, Roskilde Festival 2018


Recieved the 300-year-old Matteo Goffriller violin. Previously played by Robert Chen (concertmaster of the Chicago Symphony Orchestra).
Prizes and scholarships:
Solveijg and Per Andersens Memorial fund

of

DKK 25.000 kr.

Donation of DKK 25,000 from Odd Fellow Christian Winther Foundation

Jacob Gades Lega

t

- 3 x DKK 15.000.

1st prize, talent award and 'Best performance of Danish piece' in Jacob Gade's violin competition

Releases:
Education:
Bachelor's study at the

Rhythmic Music Conservatory

Music academy '

Litomysl International

' in Czech Republic
Bachelor's study at the

Royal Danish Conservatory of Music

Music academy '

Astona International

' in Switzerland

Barratt Due Music Institute

in Norway
Recieved lessons from: Maxim Vengerov

,

Nikolaj Znaider, Michael Malmgren

, Alf Richard Kraggerud,

Olga Parhomenko, Milan Vitek, Staffan Borseman, Bjarke Falgren

,

Anker Buch

,

Henning Kraggerud

,

Mauricio Fuks

,

Gunnar Tagmose

,

Piotr Janowski, Peder Elbæk

,

Serguei Azizian

,

Arkadi Zelianodjevo

,

Elisabeth Zeuthen Schneider

,

Robert Rozek

,

Detlef Hahn